Thank you for looking over our latest collection of fine linens. Please call us with any questions or comments or to place an order, at 321-952-1551. Fax 321-952-8481 e-mail info@gerbrendcreations.com
Thanks for your interest.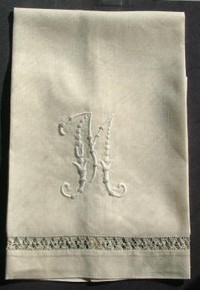 Initial Guest Towel
Ecru Linen with hand embroidered initial guest towel. Beautiful workmanship including Gilluci drawn work and Hemstich. These are hand made in the Northern part of Portugal We are switching to all white so these are on special 1/2 price for as long as they last. A larger 18" x 32" size.
Limited Stock available.
Style GT1
$33.75 ea